Highlight Films offers professional local services for photographic productions taking place in Israel and Palestine. 
We have more than 21 years of experience in providing production services and to a wide range of photo shoot productions taking place in Israel: a fashion campaign filmed on the Tel Aviv shore, photo ads for financial institutions, public organizations, catalogs etc. IN addition, we filmed various projects dealing with landscape photography in Israel. We knows how to handle all parts of the production, while coordinating with the foreign crew arriving to Israel.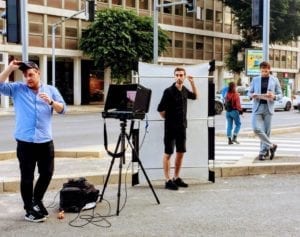 We have recently completed a shoot for Maxim Magazine, featuring
top model Kate Upton
. We completed working with UK photographer Simon Urwin on his documentary series in Israel and Palestine. We recently  had the pleasure of facilitating the commercial work of Danish photographer Mads Armgaard. In addition, We recently produced a Polish fashion campaign filmed on the Tel- Aviv shore, photo ads for financial institutions, public organisations, commercial companies etc'.
Location Scout
Our experienced location managers can find the locations you are looking for: From the high peaks of the Galilee, to the dry wilderness of the Negev Desert, the beautiful Mediterranean shores, the Biblical landscape of the Judea Desert to the high intensity urban atmosphere of Tel Aviv; Israel is small, you can drive its entire length in one day, so even a short location recce can be useful if planned efficiently.
In our archive there are shots of virtually every point in Israel, filmed in high definition. We can always show you the location you would like to visit from various angles before coming to the location.
Production crew
The Highlight Films production personnel is experienced with all kinds of field productions. We have worked with British, French, American, Canadian and Italian photographers and producers who came to Israel to film their spots, movies or photos here, and we are aware of the possible complexities of any production. During the years we have composed a list of suppliers, colleagues and service providers who fit our professional standards. To each photo shoot production we will bring the best of our experience and contacts in order to make it a successful project.
Photographers and assistants
There are many experienced photo professionals in Israel. In addition to local shoots produced in Israel, there are many international film and photo shoot productions arriving to Israel every year. We can assure you that we will assemble the best team of highly talented professionals for your production – experienced, hard working men and women who can help you achieve the best results in your production here.
Photo Equipment
All professional photo equipment is available for rental in Israel.
Aerial filming


In addition to an extensive video footage archive of Israel, we often produce aerial photography shoots by helicopters and drones.
If you are planning  to produce a photo shoot in Israel and/or Palestine, we would be glad to advise you on the various production issues, including the specific conditions for such productions in our area.